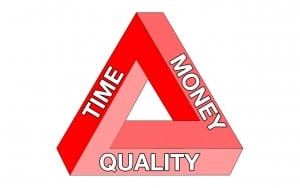 Implementing a SDLC is all about quality, reducing costs and saving time. Embracing the 12 SDLC principles will improve your quality assurance practices, increase your project success rate, reduce rework and provide deliverables that meet or exceed your stakeholders' expectations.
Principle #1
An effective organizational change management strategy is essential to the success of the SDLC.
Principle #2
Investment opportunities cannot be estimated accurately until the requirements are known.
Principle #3
The Project Management Method and the SDLC are complementary. They do not compete with each other.
Principle #4
Write requirements that are cohesive, complete, consistent, correct, feasible, modifiable, necessary, prioritized, reusable, testable, traceable, verifiable and unambiguous.
Principle #5
Model the requirements.
Principle #6
Quality Assurance begins at project inception
Principle #7
Keep the stakeholders engaged in the development process.
Principle #8
Build systems with minimal defects.
Principle #9
Make changes in the smallest steps possible.
Principle #10
Always conduct acceptance testing.
Principle #11
Complete all project artifacts before implementation.
Principle #12
Rehearse deployments.